— by Dinorah de Haro
What an incredible month we are just closing. Along March we were able to continue with the beautiful actions to help the most vulnerable communities in Los Cabos, and this time we want to share with you a recap of all the moments we lived.
To all our Members and Friends: Thank you very much for all your support and invaluable help!
---
---
.
Mar 2
We have continued to give artisan jewelry workshops aiming to provide a tool for the women in our communities, a valuable tool that helps them to generate their own resources. This time we had the pleasure of visiting Grupo Gastelum, led by Mr. Tirso to teach this beautiful trade to the brilliant women that take part in this group. Congratulations!
---
.
Mar 4
The hearts of beautiful people are the inspiring force behind our work, and the Cheney family, who are staying at Solmar Hotels & Resorts, contacted us to go shopping and fill the supermarket carts with food and basic necessities and hygiene products for the children's community kitchen. A great way to help! Thank you very much, dear Cheney family friends!
Did you know?

One of the main commitments we have as the Solmar Foundation and the Social responsibility of Solmar Hotels is to strengthen the work of local Civil Organizations.

Month after month, we punctually grant (even in times of pandemic) economic resources to more than 20 of them throughout the Baja Sur area, to encourage them to continue with their causes.

Thank you for letting us be part of this social impact!

— Dinorah de Haro
---
.
Mar 12
We received a beautiful recognition from the Building Baja's Future association, committed to the comprehensive training of young people with limited economic resources, for the support they received during 2020 – and continue to receive – from us as Fundación Solmar.
---
.
Mar 16
The international news group Newlink, gave me the honor of being considered among the "Women who are transforming the tourism industry in Latin America." A recognition that could not be possible without the support of Solmar Hotels & Resorts with its legacy of generosity and love for the community, and of the team that makes up Fundación Solmar. I am very honored. Read the full note. 
---
.
Mar 17
At Fundación Solmar we are proud to have Carolina Orozco as part of this great team. And we dedicate this day to thank you for your dedication, passion and talent. Being a fellow of the Building Baja's Future support program, an association that supported her to complete the Modern Languages ​​degree at the Autonomous University of Baja California, she seeks to leave a mark on the people who receive the help of the Solmar Foundation. A round of applause for your tireless work, Caro!
---
.
Mar 19
The Solmar Staff family has a great heart, and after conveying their help to donate cans of non-perishable food, we were able to collect more than 780 pieces in less than 5 days, which were donated to the elder in vulnerable situations.
We take great pride in our people. It's such a wonderful feeling to grow together in strength and social responsibility towards our local community in times of pandemic!
By the way! Our friend and Member of the Solmar Vacation Club, Lyndi Lammerding joined our cause by donating cans! Thank you, Lyndi!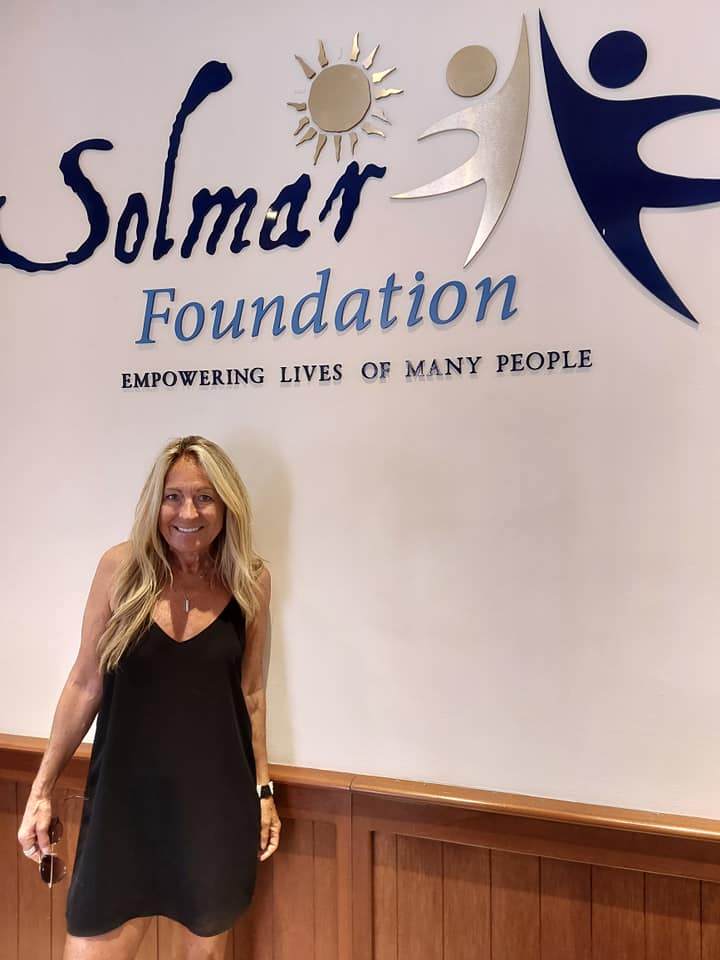 ---
.
Mar 26
And the jewelry workshops continue! This time we went to San José del Cabo, to the Bado Santa Rosa where they welcomed us with great enthusiasm to learn a new trade. Thanks and congratulations!
---
.
Mar 30
To celebrate and honor the work of 10 women who lead social impact foundations in Baja California Sur, Fundación Solmar organized an emotional tribute, because even in difficult times they have given their best. To them, our recognition for their altruistic vocation, effort, courage and for their passion for doing good from their civil organizations or foundations. Read more here.
---
.
See you soon with more good news to share!
Dinorah.