by Dionorah de Haro
---
Kindness is one of the greatest gifts you can ever receive, and at Solmar Foundation we feel lucky for having so many kind hearts lending a hand when most needed, and for having learned from one of the kindest human beings, Mr. Francisco 'Paco' Bulnes, his devotion and hard work to make Los Cabos a better place to live and visit.
Thank you for making a difference in the lives of so many in Los Cabos.
With all my gratitude,
Dinorah
---
July 2
Volunteers are the supporting force that helps us aim higher and farther. We are truly thankful for all the people who give us the gift of their loving presence at Casa San Juan Diego in C. S. L, which have been beneficiaries of Solmar Foundation for many years. Thanks to them, there is a warm breakfast for each woman, man, and child who need it.
Our deepest appreciation!
---
July 5
Intention + Action = A change
Family is always there for us in good and bad times, and our Solmar Family is always showing love and support. This time our dear colleague and friend Roberto Esquivel, Activities Director put a good amount of clothes and shoes together to donate to the Foundation. This is not the first time, as he is always looking for ways to help.
Thank you dear Roberto!

---
July 7
We are more than excited to announce the addition of a dedicated channel to display the history of Solmar Foundation right at your suite's TV. You can tune it on channel 21 during your next visit to Solmar Hotels & Resorts.
Here a little taste!
Hope you enjoy it!
---
July 8
Thanks goodness for all the people who find inspiration in the work done by Solmar Foundation in Los Cabos! This day we had a wonderful morning with Mrs.Cathy Harkins. Such a loving, caring person.
Part of our job is to serve as intermediaries for all our Members and guests who wish to bring some help to our community, and help make that wish come true.
With all our love: Thank you Mrs. Harkins for such a fun, cherished moment shared with you!
---
July 13
Recycling and reusing: Two important pillars to help our environment take a breath, as well as an act of social responsibility that creates a positive impact in our community. It helps create consciousness about taking care of our planet.
We would like to thank Mujeres en Acción Solidaria A. C (Women in Solidarity Action) for giving excellent use to the furniture donated after a refurbish at Solmar Hotels & Resorts.
Every action counts!
---
July 19
Never underestimate the value of small details. They have the power to bright up the lives of those who receive them.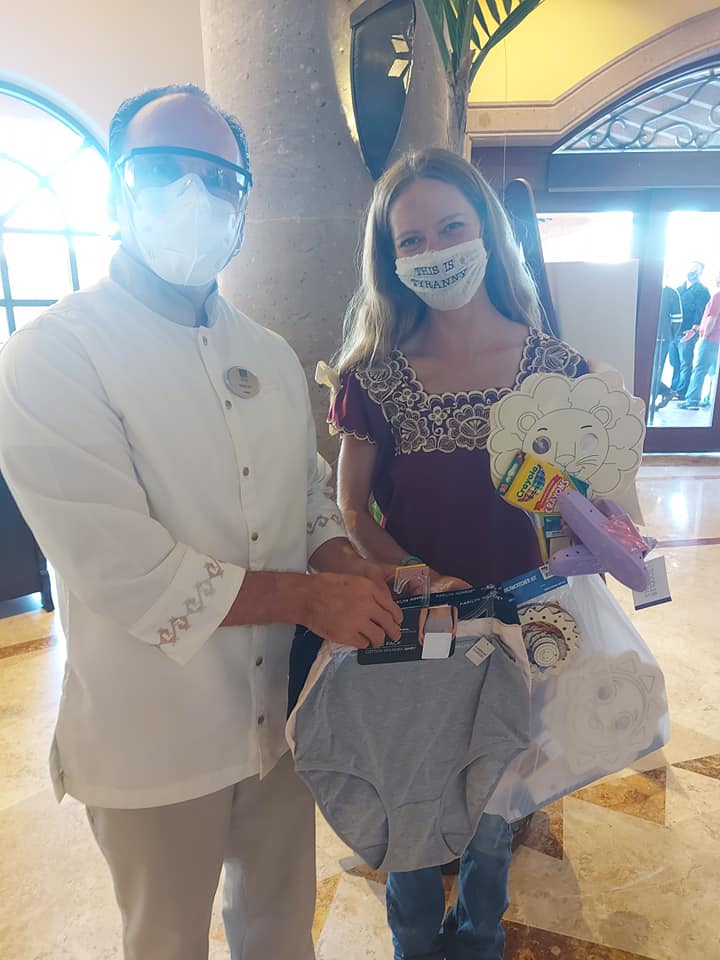 May we Always keep the sense of wonder and enjoy life with its small and big details!
---
July 21
Nothing like the hospitality and gratitude of Mexicans. And this day volunteers at the community of Colonia Gastelum prepared delicious tamales to share with dear Members, guest and friends as a token of appreciation for all their help and donations.
The tamales were simply delicious! Just take a look at our friends' faces!
---
July 25
The highest tribute to the people who leave this world before us is gratitude.
And feeling grateful for having the honor to meet a noble, caring man like Mr. Francisco 'Paco' Bulnes is our way to pay homage to such an inspiring life.
Thank you for all the lessons taught with your example, thank you for your impeccable leadership, but most of all, thank you for inspiring our work with such a vivid spirit and dedication.
So long, Mr. Francisco Bulnes.
Always in our hearts.
Message in the image:
---
It is with profound sorrow that we announce the passing of
Mr. Francisco "Paco" Bulnes
Ou developer and entrepreneur, a visionary man and President at Solmar Group.
A great human being with an altruist heart who leaves a hallmark of love in our memory, and that of thousands of families in Baja California Sur.
On behalf of all of us at Solmar Foundation, we keep the Bulnes family in our warmest thoughts as they navigate these difficult times.
We will continue our work with even more determination to continue with the Bulnes family legacy.
---
We will miss you very much Don Paco.
Your legacy and that of Don Luis Bulnes and Doña Conchita will remain forever.
With deep love, respect and admiration,
Dinorah de Haro