by Dinorah De Haro
Hello again, friends! It is so exciting for me to keep this log about everything that happens within the Foundation and share it with you all! June was, indeed, another month of great satisfaction and new friends made: a journey that could not be possible without the caring support of Members, friends, and colleagues that sum to our cause.
Hope you find it inspiring!
June 2
Mr. and Mrs. Leverett contacted us with good news: they had little gifts for the communities we support and they asked for some help to deliver them.
Even when they were not staying at Solmar Hotels & Resorts, they had read about our work in an international newspaper and were very inspired by what we have achieved. So amazing to reach people out there looking to help one way or another!
Thank you so much, Mr. and Mrs. Leverett!
---
June 8
We are continuously collecting the books that our guests at Solmar as well as collaborators and the community in general aim to donate. We make sure each one of them get to the Cabo San Lucas Fire Department where they have a permanent reading corner available.
Do you have books you'd like to donate, or would like to exchange for different ones?
Visit their page on Facebook!
---
June 9
This day the VI AMECC 2021 Congress started, a space for exchanging and updating in Congenital Heart Disease matters.
This is an event organized by Corazón de Niño together with the Mexican Association of Specialists in Congenital Heart Disease and Amigos de los Niños de Cabo San, and Solmar Hotels & Resorts have the honor to host and welcome doctors visiting from all over the country.
It was a very productive congress indeed, for the benefit of the hearts of our children!
---
June 14
Many thanks to Social by Tendencia for this excellent documentary about the homage paid by Solmar Foundation to great women doing a laudable work for the community!
Here an extract of the interview with Tendencia Magazine:
"The inspiration to pay homage to 10 women doing a laudable work was the recent recognition I received to be listed among the 10 Latin American women transforming tourism by Newlink for segmenting Philanthropy Tourism in Mexico while offering a memorable vacation experience and the opportunity to volunteer and create a positive impact in the community they are visiting.
Travelers For Good Congress has opened a window to promote Solmar Hotels & Resorts. In October 2021 we will receive a group of nearly 100 people staying at Solmar Resorts who will come down to build homes for the Los Cabos Community with recycled material."
You can watch the full video (Spanish) here.
---
June 16
Our last artisan jewelry workshop this season was a success! 👏
Congratulations to the attendees who put their enthusiasm and commitment to learning, but above all, thanks to the teacher Zhoe Parodi and her staff, who travel to Los Cabos to share their talents so that other people can generate their own resources in times of crisis.
---
June 17
Leticia Ordaz, news anchor and Emmy's nominated reporter contacted us directly so she could read to children her new book written in Spanish.
"The book of Mr. MACAW" is the story of Leticia's family in Cabo San Lucas, where the kite of their children in the form of a macaw of much sentimental value for them, was lost in the middle of the storm. Lydia and many people locals helped them until they found it.
A beautiful story of friendship and union that has moved many people around the world, who have made it worthy of many awards for this book.
She herself with her family read the story to our children and gave away many books as well as the great magic kite of Mr. MACCAW!
---
June 22
We thank all the local businesses that join the community cause such as Back To The Rack, San Jose and Back To The Rack, Cabo San Lucas for contributing donations to many local civil organizations as well as Solmar Foundation.
Thank you very much!
---
June 28
We feel deeply thankful for having so many Members and friends who help us to bring help to others!
But above all, thank you for making the effort to carry one or more suitcases with gifts that are heartily packed.
We appreciate your donations, friends!
---
June 30
Many thanks to the coach of the Boys with Disabilities Soccer Team in La Paz, Víctor Salgado, for donating a box full of incredibly well presented antibacterial bottles to Solmar Foundation. We shared them with the community!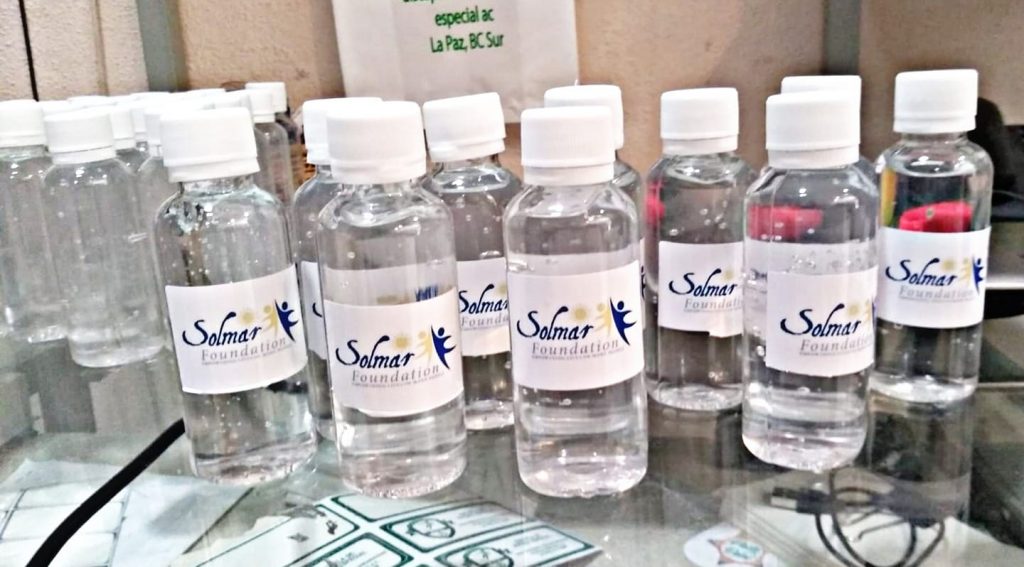 He is leading a raise funding, so in case you are interested in purchasing this product to support them, you can contact Víctor at the email: victormasal@hotmail.com
Thanks a lot!
---
Would like to become an active part of this mission to bring joy, health and better lives to the people who need a hand in Los Cabos?
Please feel free to contact me directly for any information about the programs we have the pleasure to help. +52 (624) 145 7575 Ext. 74550 or write to info@solmarfoundation.org.
With a thankful heart,
Dino